---
Where Fightin' blue jackets were made!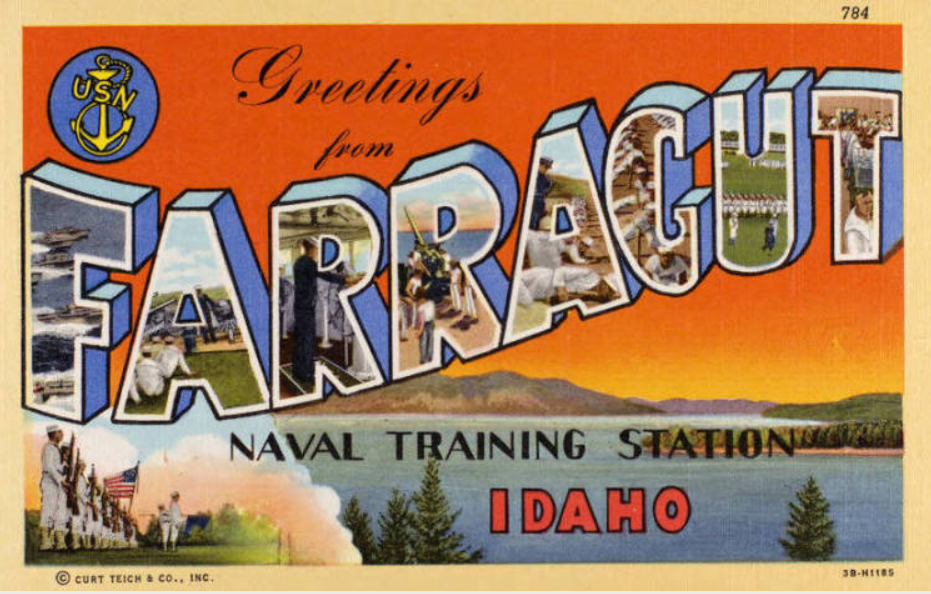 Nestled at the foot of the Coeur d'Alene Mountains in the Bitterroot Mountain Range and named for Admiral David Glasgow Farragut, a Civil War Naval Hero, Farragut, Idaho welcomed its first naval recruits on 17 September 1942.
From then until 10 March 1945 when the last class graduated, Farragut was the second-largest U.S. naval training station in the world. It was also one of, if not the largest, in Idaho. During the 30 months it was operational, Farragut trained 293,381 recruits and over 25,000 service school attendees.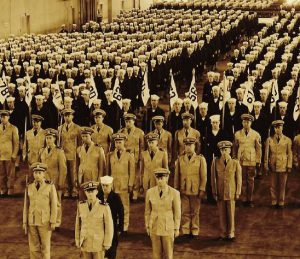 It was originally believed that 19 states sent Naval recruits to Farragut. It has since come to light that there were 24 (and counting!). They were Arkansas, California, Colorado, Idaho, Illinois, Iowa, Kansas, Massachusetts, Michigan, Minnesota, Missouri, Montana, Nebraska, Nevada, North Dakota, Oklahoma, Oregon, South Dakota, Tennessee, Texas, Utah, Washington, Wisconsin and Wyoming.
If you'd like to learn more about the former training station, we now have the following book in stock, "Images of America; Farragut Naval Training Station." Makes a great gift for those who attended training there or if you are wondering what your loved one did while stationed there!
---
HELP WANTED
If you have photos of WWII Farragut you would like to share, please feel to email the Idaho Military Museum.
We are also looking for rosters accompanied with photos.
We are especially in need of the following rosters, as the ones we have are damaged and missing names:

| Company | Year |
| --- | --- |
| 49 | 1944 |
| 64 | 1943 |
| 109 | 1944 |
| 112 | 1943 |
| 152 | 1942 |
| 178 | 1944 |
| 181 | 1942 |
| 312 | 1943 |
| 392 | 1943 |
| 396 | 1943 |
| 590 | 1944 |
| 689 | 1943 |
| 966 | 1943 |
| 1044 | 1943 |
| 5017 | 1944 |
Research Requests
The Idaho Military Historical Society answers numerous requests by patrons for various types of information related to Idaho's military history every day. If you are not able to visit the library and archives to conduct your own research, our staff may be able to assist you.
A photocopier is available for use for $0.20 per page. Our staff can make them for you on a first come first basis for $0.50 per page.
Requests that can be answered in less than 30 minutes will be charged for staff-produced copies (letter or legal) and postage.
Requests that take an additional 60 minutes will be charged a $15.00 research fee, in addition to staff-produced copies and postage.
There is a $5.00 minimum copying charge for off-site queries.
Upon request, our staff can provide a list of local researchers experienced in either historical or genealogical research who can be hired to assist with longer research projects.
Any requests requiring international postage will be charges to the postage rated posted on the United States Postal Services webpage. https://ircalc.usps.gov/
*We reserve the right to restrict copying material which may be damaged by the photocopying process or carries donor-imposed restriction. The user is responsible for copyright compliance.
---
DeVou 'Dee' Evans Humphreys
Read a story of Dee Humphreys the founder of "Horse Therapy" Farragut Naval Training Stations Riding Academy (see page 5).
George Harper
Read a story about George Harper, WWII Veteran a Farragut Naval Training Station Graduate (see page 2).
We have a Mystery…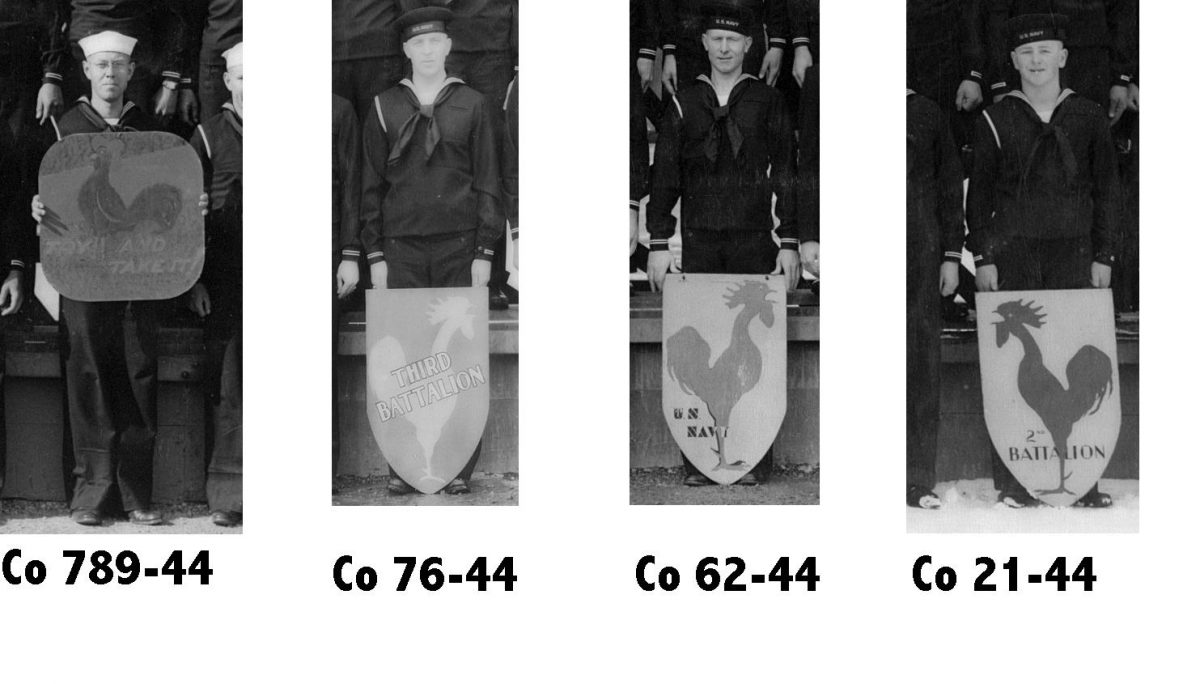 Farragut Veterans, we have bit of a mystery on our hands.
Several of the 1944 company photographs have a member of the company holding a shield or sign with a rooster on it. One of the shields reads, "Try and Take It!" so we are presuming that the rooster was something positive.
Here is composite photograph of four such rooster shields and the company photograph the images came from. If you can solve the mystery of the rooster, please contact us.
Update: The Rooster flag was the top award given to the company that won the weekly marching and drill competition. It would have rotated each week to that weeks winning company. The rooster flag got your company a ride to the front of the line at chow where you crow as you strut past everyone else.
---
---
Notable Graduates
Robert E. Bush attended Naval Medical Corps Basic Training at Farragut, Idaho, graduating in Feb 1944. He then continued his training at Farragut, graduating from the Hospital Corps School on or about April 28, 1944. Bush was a Navy medical corpsman during the Battle of Okinawa and at the age of 18, was the youngest sailor to receive the Medal of Honor during World War II.
Fred Faulkner Lester also attended Naval Medical Corps Basic Training at Farragut, Idaho, graduating in December 1943. Lester was a Navy medical corpsman during the Battle of Okinawa where he earned the Medal of Honor in June 1945. He trained with Company 954 at Camp Ward.
John H. Bradley, up until June 2016, was thought to be one of the flag raisers at the second flag raising in Iwo Jima. As it turns out, he was in the first flag raising photo and not the iconic. He attended training at Farragut and went on to receive the Navy Cross.
Don W. Samuelson who went on to become a state senator and then governor of Idaho.
William W. Laxson who went on to become the state surgeon for the Idaho Army National Guard.
Leo F. Buscaglia who went on to become a successful writer and motivational speaker; often referred to as "Dr. Love."
Arthur Mercante who went on to become a world famous boxing referee. It was he who refereed the 1971 match between Muhammad Ali and Joe Frazier. Merchant was a 'Boot' company commander at FNTS and also part of the physical fitness program there. He was at the Station from 15 Sep 1942 to 20 Sep 1944.
If you have any information on when he graduated Farragut, we would very much appreciated receiving it. We do not have his exact graduation date, neither do we have his class photo.
---