---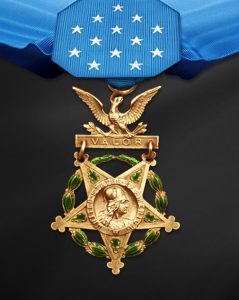 The Medal of Honor is the highest award for valor in action against an enemy force which can be bestowed upon an individual serving in the Armed Services of the United States. It is earned, not won, by performing a deed of personal bravery or self-sacrifice, above and beyond the call of duty, while a member of the Armed Services of the United States is in actual combat with an enemy of the Nation.
While researching the Medals of Honor accredited to Idaho we discovered that 8 Medals were EARNED in Idaho, 18 Medal of Honor Recipients are buried in Idaho (this includes one 'In Memory Of' Cenotaph), 3 Medal of Honor Recipients are currently living in Idaho, and 4 Medal of Honor Recipients were born in Idaho but either moved to or enlisted in another state.
There has also come to light, information on other Medal of Honor Recipients with significant Idaho attachments other than those mentioned above. These are listed as Honorable Mentions. This makes a total of 48 Recipients with strong Idaho attachments. Go to the Medal of Honor page to see each recipient and their connection to Idaho.
---
The 1877 flight of the Nez Perce from their homelands while pursued by U.S. Army Generals Howard, Sturgis, and Miles, is one of the most fascinating and sorrowful events in Western U.S. history. Chief Joseph, Chief Looking Glass, Chief White Bird, Chief Ollokot, Chief Lean Elk, and others led nearly 750 Nez Perce men, women, and children and twice that many horses over 1,170 miles through the mountains, on a trip that lasted from June to October of 1877.

"We the surviving Nez Perces, want to leave our hearts, memories, hallowed presence as a never-ending revelation to the story of the event of 1877. This trail will live in our hearts. We want to thank all who visit this sacred trail, that will share our innermost feelings. Because their journey makes this an important time for the present, past, and future."
– Frank B. Andrews, Nez Perce descendant
---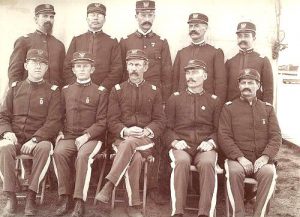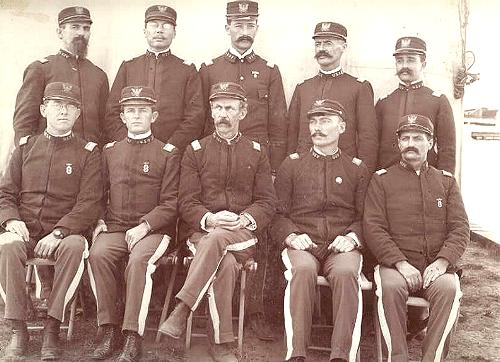 The 1st Idaho Volunteer Infantry served in the Philippines during the Spanish American War and the Philippine American War.
The 1st Idaho Volunteer Infantry was mustered into service at Boise, Idaho between May 7 and 18, 1898. At the time of mustering in, the unit consisted of thirty-two officers and 644 enlisted men, making it one of the smallest volunteer regiments formed during the war. Go to the Spanish American War page to find out more about its history.
---
Nestled at the foot of the Coeur d'Alene Mountains in the Bitterroot Mountain Range and named for Admiral David Glassgow Farragut, a Civil War Naval Hero, Farragut, Idaho welcomed its first Naval recruits on 17 September 1942.
From then until 10 March 1945 when the last class graduated, Farragut was the second-largest U. S. naval training station in the world. It was also one of if not the largest employer in Idaho.
During the 30 months it was operational, Farragut trained 293,381 recruits and over 25,000 service school attendees. See more information about Farragut, go to the Idaho Legacy: Farragut, Idaho page.
---